Tea 2021 AFL Brownlow Medal is set to be one of the most exciting counts in years with plenty of lead changes and a number of players in contention right up until the final rounds of the season.
Here's an overview of Brownlow evening, looking at round voting to explore the way the count may unfold. This can be used for betting on the popular markets such as "Leader after Round X" or "Most Votes in Rounds X" and also for live trading on the Brownlow on Betfair.
Most importantly, don't go wasting your money buying Brownlow tips, packages or data from other touts. With a proven track record over many years, we have the best Brownlow data for you and it's all available for you for FREE right here at Before You Bet. We'll be publishing multiple articles in the coming days which has all the information you need to profit on Brownlow night. Don't throw your money at information that is already available!
Check out this link for our complete 2021 Brownlow Leaderboard and links to analysis and vote projections for every game from every round of the season!
Also if you have any specific Brownlow questions, just ping us a message on Twitter @Before_You_Bet and we'll be happy to answer them!
Rounds 1-6
We have Taylor Walker bursting out of the blocks in the opening three rounds with 17 goals and nine Brownlow votes. Oh how it went downhill from there for Tex! One of those was in a loss, so the three there may be a little ambitious which will affect things in betting the "Leader after Round 5" markets. His challenger in that market is likely to be Tiger superstar Dusty Martin who may also be best in Round 1, 2 and 5.
The smokey after Round 5 is Christian Petracca who is likely to poll votes in the first four rounds. He was also clearly best in Round 6 which should put him into the lead if you're betting on "Leader after Round 6" markets.
Another chance may be David Mundy who should poll 3 votes in Round 6 to slide up among the leaders.
Of the Brownlow contenders after 6 rounds, we have Ollie Wines 8.5 votes, Clayton Oliver we have 8 votes, Marcus Bontempelli on 6.5 votes, and Jack Steele 5.5 votes.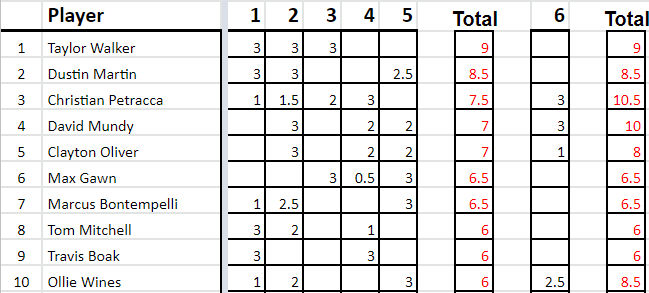 Rounds 7-11
These rounds were dominated by Hugh McLuggage while Clayton Oliver will also emerge as a contender. McLuggage may poll as many as 15 votes between rounds 5-10 and we have him narrowly in front at this point. Oliver should poll heavily in rounds 8-11 and will take over the lead at Round 11 according to our projections.
It's also a good patch for Marcus Bontempelli with potentially three best-on-ground performances through rounds 8-10.
Darcy Parish will also start to rise through the pack after potentially three max votes games in rounds 9-11.
While he won't be leading, it's a crucial period for the chances of Ollie Wines. We have him polling two votes in Round 7 and 9, but both were losses for the Power. It can be hard to poll in losing teams so if he polls well here then we know he's on track to win. If he misses out, it's not a disaster but it will level things up with Steele and The Bont in our projections.
Rounds 12-18
This will be a really exciting period of the Brownlow count where all of the contenders poll exceptionally well.
Ollie Wines may poll in as many as six of the seven rounds, while Jack Steele might do likewise with as many as four best-on-ground performances in this period.
Sam Walsh will get people thinking of 2022 Brownlow betting with four best-on-ground efforts in a row from Rounds 15-18 to rise up the leaderboard, but unfortunately the wheels fall off for Carlton late in the season.
Touk Miller, Tom Mitchell, Christian Petracca and Darcy Parish should all poll well in this period.
One who will drop away here in this period is Clayton Oliver, as he is projected to only poll a maximum of three votes over these seven rounds. If he can pinch more than that, then he could be in the finish.
Rounds 19-23
These rounds of the season aren't best for our contenders, but it could very well all come down to the clash between Ollie Wines and Marcus Bontempelli who goes head-to-head in Round 23! If Wines has a buffer at this point then he will win, as The Bont simply does not poll in the final round.
If it's a more compact leaderboard, then Jack Steele is a clear best in the final round, while Clayton Oliver is a good chance for three as well.
It seems too much of a stretch for anyone else to be a chance at this point unless things have gone awry earlier in the evening.
The best poller during these final rounds is Travis Boack who finishes the season with a burst with a pair of best-on-ground performances.
Last 8 Rounds
If you're betting in the "Last 8 Rounds" markets, it's Jack Steele (16) who finishes best, well ahead of Touk Miller (12.5), Sam Walsh (12), Christian Petracca (11.5) and Travis Boak (11.5).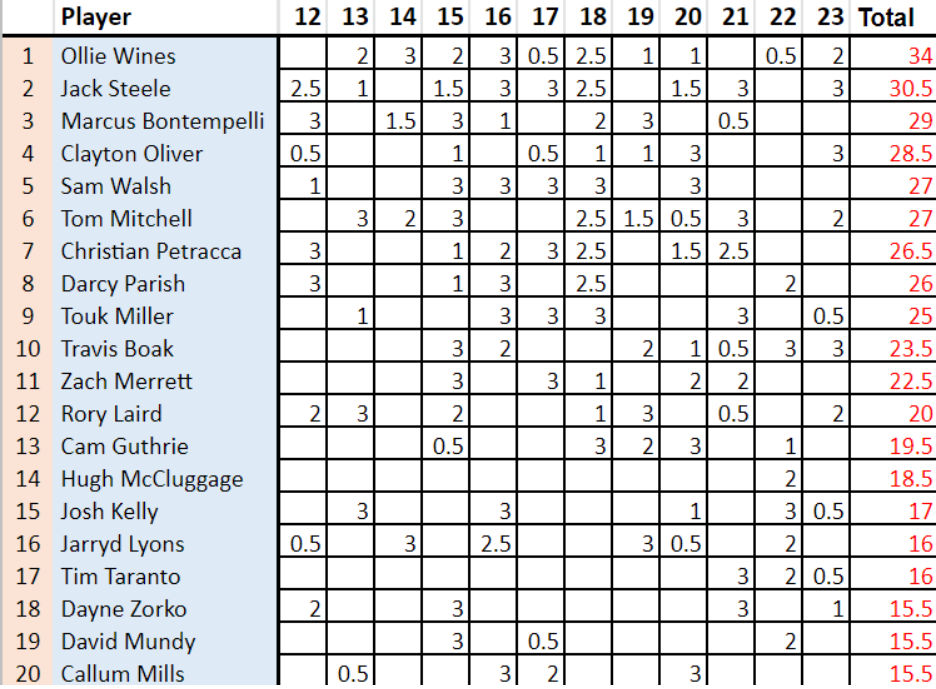 While he should hit the lead at some point, we have Marcus Bontempelli only polling 6.5 votes in the final 8 rounds which will be the difference according to our Brownlow projections as we believe that Ollie Wines will be crowned the 2021 Brownlow Medal winner!
Poll in Most Games
It's pretty easy to argue that Ollie Wines was the most consistent player in the 2021 AFL season. We have him voting in as many as 18 of the 23 rounds which is a phenomenal record. He won't poll as many 3 votes as other players, but he should pick up a bunch of 1 and 2 vote games where he was possibly one of the best players on the ground in a losing team. We're pretty confident that he'll poll in the most games. Clayton Oliver and Jack Steele round out our top three for the most consistent players who polled in the most games.
We provide a range for some players where they've been assigned 0.5 votes in a game. That means that they are a chance for 1 vote or could possibly miss out. If there's no range, then we're more confident of the players polling in those games.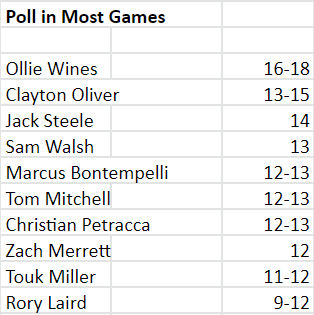 Poll Most 3 Votes
This market should be more competitive with a number of players pretty close around 6-8 best-on-ground performances for the season. Just be careful, as there's a strong chance of a tied market here which would slice your odds completely. Jack Steele and Marcus Bontempelli both have similar expectations of a range of 6-8, while Darcy Parish could offer the value as he has a 5-8 range, so if he polls strongly, he'll be right in it. If the others don't hit their ceiling, then Sam Walsh is also a chance. His maximum appears to be 7, but he has a tighter range with more confidence of at least 6 BOGs.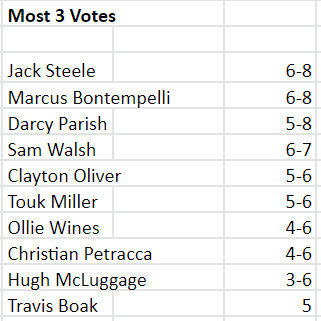 Good luck if you're betting on the Brownlow round markets or live trading on Betfair on the night, and we hope this gives you a good feel for the flow of how the night may unfold!