Democratic Rep. Alexandria Ocasio-Cortez on Saturday accused Fox News host Tucker Carlson of harassment after his "booty call" segment in which he spoke about the congresswoman and a forthcoming book about her.
"I genuinely want to know why Tucker Carlson is allowed/paid to engage in clear, targeted, libelous harassment that endangers people & drives so many violent threats that ppl have to fundraise for their own safety," Ocasio-Cortez tweeted on Saturday.
During his show Tucker Carlson Tonight on Friday, the host was discussing the upcoming book Take Up Space: The Unprecedented AOC, which is written by editors of new York magazine. At one point during his segment, the host took a swipe at the lawmaker.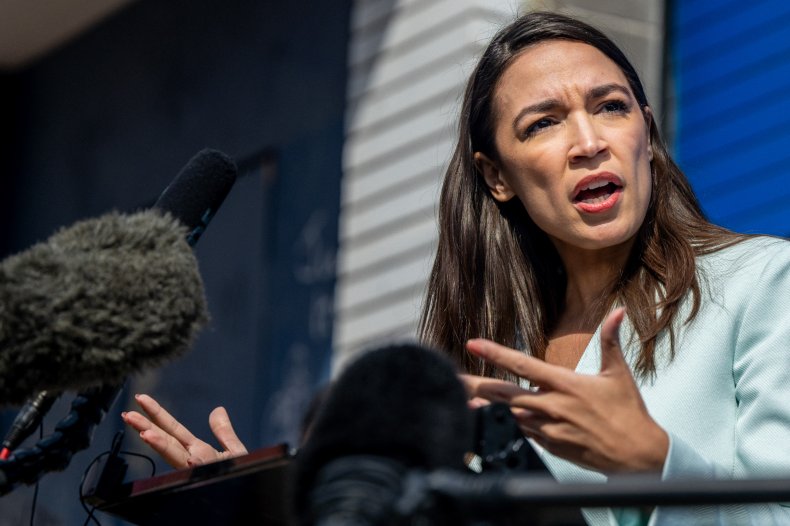 "'I'm alone today,'" Ocasio-Cortez says pointedly at the camera while assembling a coffee table in her apartment in a portion of a 2018 video she posted to social media. In the video, the congresswoman also described herself as being exhausted.
"Is it just us, or does that sound like an invitation to a booty call?" Carlson asked. "Maybe one step from, 'What are you wearing?' Either way, it's a little strange. It's definitely oversharing and yet, according to the book, oversharing is the key to Sandy Cortez's success." Carlson uses the name "Sandy" when he refers to AOC.
The Fox News host also criticized the new York magazine editors for how they perceived the video in their upcoming book.
"On this night and again during another session assembling IKEA furniture in July, she shone a bright light on her own complicated, multifaceted self. In that video, Ocasio-Cortez looks thin. Her trousers sag. She's wearing her glasses and her hair is up in a sloppy just-about-to-wash-my-face bun," the book passage read.
"She's wearing an old moto jacket and is sitting on the floor of her unfurnished apartment eating a bowl of popcorn and drinking a glass of wine. For dessert, she has a small pack of fruit snacks sent to her in bulk by Roberts's mother. She has no agenda, nothing in particular to get off her chest. It really is as if she were exhausted and wanting to talk. 'I'm alone today,' she says, pointedly at the camera," the editors continued.
On Saturday AOC commented on his "booty call" remarks as she wrote in another tweet: "It's not within the realm of political commentary, & it's not just me. He regularly targets people that do not have access to resources for protection. Once he gets to fantasizing about "booty calls" of women on national TV I cease to see the political value outside of incitement."
On Friday night she shared a clip from Carlson's "booty call" segment and accused him of sexual harassment.
"You're a creep bro," Ocasio-Cortez called Carlson in another tweet on Friday. "If you're this easy w/ sexual harassment on air, how are you treating your staff?"
During the same segment, Carlson said that the New York Rep. is not a woman of color and called her "a rich, entitled white lady."
"There is no place on Earth, outside of American colleges and newsrooms, where Sandy Cortez would be recognized as a 'woman of color,' because she's not," the Fox News host said.
"She's the pampered, obnoxious ski bunny in the matching snowsuit who tells you to pull up your mask while you're standing in the lift line at Jackson Hole. They're all the same. It doesn't matter which shade they are. Apparently, the editors at new York don't ski magazine. They spend the entire book pretending that Sandy Cortez has just emerged from some teeming favela in the slums of Rio to save the world's poor," he added.
Ocasio-Cortez responded to those remarks in a tweet in which she called him "pendejo" without spelling out the word.
Richard Signorelli, former assistant US attorney for the Southern District of New York, called for filing a lawsuit against Fox and Carlson over his comments about Ocasio-Cortez.
"Please consider a lawsuit against Fox and Carlson," he tweeted on Friday. "As an attorney (& former bartender!), I believe that there are many plaintiff's attorneys who would be willing to take this on."
Newsweek contacted Fox News for comments, but has not heard back in time for publication.