As a resident of Brunswick, I am well aware that this column may lead to my exile from the inner north. I'm likely to be banished across the Yarra and told to build a new life in St Kilda, or even worse – Prahran. But sometimes the truth, no matter the consequences, must be told: the proposal for a new Bunnings warehouse in the so-called "hipster" suburb – successfully scuttled by local residents – did not herald the end of the world. Far from there.
Resident action groups in progressive inner-city suburbs inflamed against overdevelopment and traffic congestion are not a unique phenomenon. But considering that this brave group of concerned locals managed to scale a two-story Bunnings project backed by the multibillion-dollar corporation Wesfarmers, it's more remarkable than most. So, is this the case with David defeating Goliath? Has nimbyism gone mad? Well, it's a bit of both.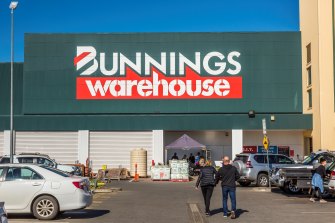 First let me declare an interest: Bunnings saved my life during Melbourne's long lockdowns. There are only a limited number of times you can review The Sopranos before I went crazy, and by the time lockdown #3 hit, my shared house was going crazy. So we decided to embark on a series of home improvement projects.
As a tenant, the possibilities for renovations are limited, but we took the opportunity to replant our garden, prune a few overgrown trees, repaint the fence (or at least buy the paint in order to repaint the fence) and seal the cracks in the old Fitzroy terrace where we lived at the time. The Collingwood Bunnings warehouse, a 10 minute walk away, was a godsend.
Wandering to the store to buy supplies, potting soil or a new fiddle leaf fig was one of the very few ways to break the monotony of life in lockdown. But Bunnings' value to Australians was well established before the pandemic hit. For many people, a weekend at Bunnings has replaced going to church as an activity that nurtures the soul and promotes community.
I know a lot of people balk at that comparison. Bunnings is part of a mega corporation worth billions! Its shelves are full of homogenized and mass-produced products!
The plan for a new Bunnings in Brunswick was first mooted in 2020 and involved the demolition of the Chamton building on Glenlyon Road and its replacement with a two-storey warehouse, rear lane truck access and underground parking.
Moreland Council received hundreds of objections from residents concerned about traffic, loss of sunlight and the impact on other local retailers. The proposal was rejected by council, and this week the planning court also rejected it, following a concerted campaign by local residents.