"It's very, very hard to watch and it's very relevant. Ukrainians are just like Lithuanians, we wanted the same, we got it. They supported us when we faced the same things and it's our turn now," Ottawa resident Elena Basset said.
Basset, who has lived in Canada for 20 years but is originally from Lithuania, beared witness to the collapse of the Soviet Union and the major reforms of perestroika that saw the breaking up of the then-Communist Party.
"I stood in front of Russian tanks when they attacked our first democratically elected parliament," Basset said, referring to the Soviet Union's 1990 invasion of Lithuania.
Basset is one of dozens of donors who purchased do-it-yourself perogie kits created by Carleton's Ukrainian Students' Club. The kits, made by a handful of club members and volunteers throughout March 26, are part of an effort to raise money for the Ukrainian Humanitarian Appeala fund run by the Canada-Ukraine Foundation and the Ukrainian Canadian Congress.
"[The invasion is] awful, it's terrible, it's heartbreaking, it's not unexpected," said Sophie Shields*, president of Carleton's Ukrainian Students' Club.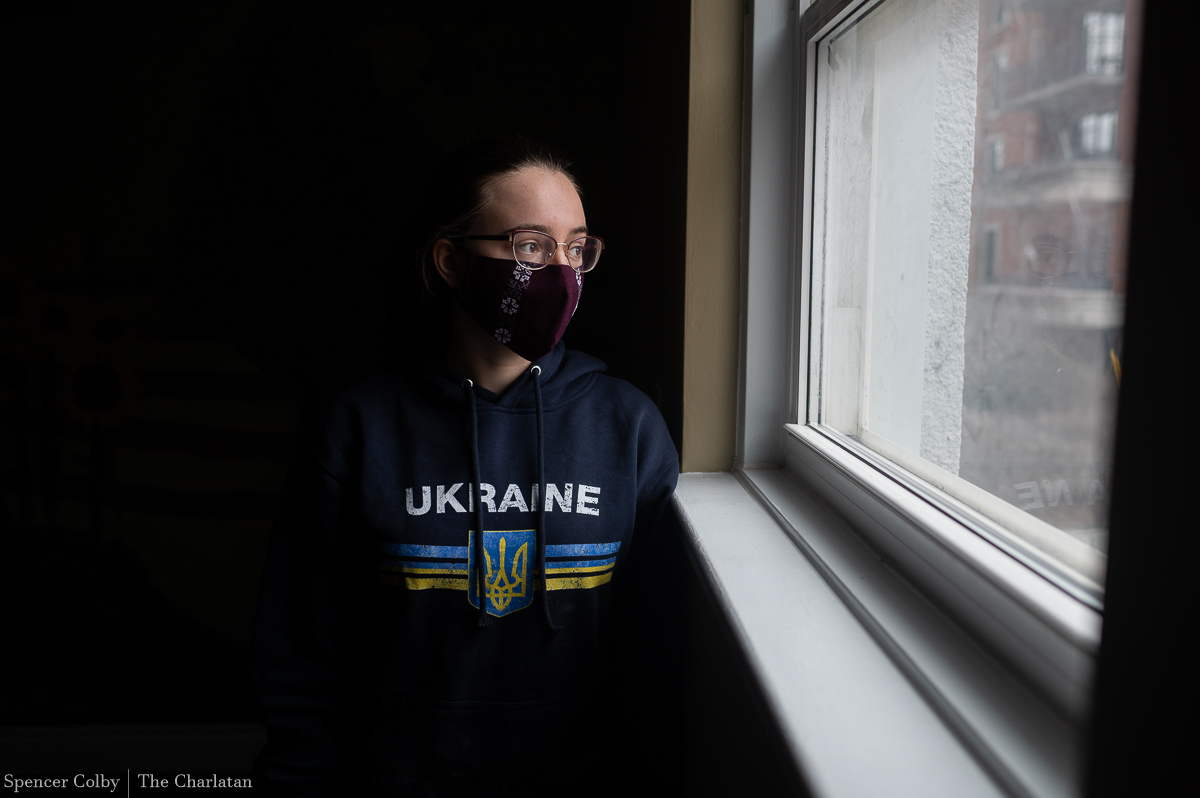 Although the club hosts perogie making events each year, this year's event and the club's structure were different. "Our role has really shifted from being a culture club, which was there to have fun, have a community, engage in culture traditions and events, to advocate for the university to provide support for students," Shields said.
Arianna Fuke, a third-year global and international studies student, said despite not having family in Ukraine, she finds the ongoing war frightening.
"It hurts to see people that you feel a certain bond with really struggling, so I think we're all just trying to do any little piece we can to make another Ukrainian's life a little bit easier right now," Fuke said.
Although Carleton has released an online list of resourcesShields said the support is lacking compared to other universities.
"Carleton has done a lot less. For instance, there are no programs for financial support, there are no programs for refugees coming from Ukraine who are students or scholars, while other universities like the University of Toronto have put those things in place," Shields said.
In an email to students sent on March 14, Carleton president and vice-chancellor Benoit-Antoine Bacon said he wanted to support students and scholars at risk affected by the invasion.
"Our community was proactive in reaching out to all of our international students from Ukraine or Russia — approximately 40 students — to offer any support they may need," Bacon wrote. "Like all of you, I feel deeply for our colleagues and students with ties to Ukraine. I also feel for those in our community with ties to Russia, who find themselves in a difficult situation not of their own making."
Bacon added Carleton is "working to welcome" Ukrainian researchers to campus and refugees from the war zone to Carleton for the next academic year.
According to U of T's website, the university is allowing undergraduate and graduate students impacted by the war to apply for tuition assistance under its Emergency Grants program and is also offering mental health support through its 24/7 multilingual counseling services.
"We've been trying to advocate, but it's very difficult," Shields said. "I think going forward it's part of our role as well is to make sure we're helping our community here and the Ukrainian students," Shields said.
A statement by U7+ Alliance of World Universitiesa group of universities from around the world, condemned Russia's invasion of Ukraine and announced material and psychological support for students impacted by the conflict.
Twenty-two countries were signatories to the statement, including U of T and the University of Ottawa. Carleton did not sign the statement and is not a member of the alliance.
As of March 23, the United Nations High Commissioner for Refugees (UNHCR) estimates there are more than 3.6 million refugees who have fled Ukraine, with an additional 6.5 million internally displaced.
"This is a very devastating situation for Ukrainians, both those fleeing the war and those that have stayed behind and are not able to flee," Old Ottawa South resident Ariel-Ann Lyons said, who found the perogie event through her local Facebook group. "So [we are] definitely thinking of how [we] can support them in any way we can."
Although negotiations between officials from Ukrainian and Russian governments are set to take place in Turkey this week from March 28-30, it is unclear when and how the conflict will end.
"It's not the time to be complacent. It's a very, very dangerous situation and it hurts," Basset said.
Sophie Shields has contributed to the Charlatan.
---
Featured image by Spencer Colby