Kourtney Kardashian and Travis Barker have released more photos from their wedding day in Portofino, and they're as heavily gothic and PDA-filled as you might expect.
Post to InstagramKardashian shared a series of black-and-white snaps of her and her new hubby relaxing on a yacht, still in their wedding attire, and posing for the camera.
READ MORE: Johnny Depp's lawyer deals a savage blow to Amber Heard
READ MORE: Bride Madalyn's horror discovery after first dance at wedding
She captioned the post: "Cheers to forever" along with a slew of emojis.
In the series of photos, the couple are seen getting a little frisky, with Barker clinging to Kardashian's foot and giving her a bite to eat.
In another photo, Kardashian poses with a bottle of champagne as Barker kneels beside her, trying to bite off her garter.
Kourtney and Travis got married for a second time at Castello Brown, a castle they rented in Portofino, Italy. The occasion took place on May 22 and saw the pair stand down the aisle in outfits designed by Dolce & Gabbana.
Kourtney wore a custom mini wedding dress and, during the ceremony, donned a trailing hooded lace veil with the Madonna sewn into the back.
The veil is spotted in more detail in a series of new photos shared by Barker, which capture the pair in an elevator.
READ MORE: Victoria Arbiter: 'With days to go, the Platinum Jubilee buzz is definitely in the air'
Captioned 'Love in an Elevator', the couple are filmed making themselves comfortable in the elevator, also wearing their wedding outfits and share a kiss.
These photos have sparked baby rumors for Kardashian, given in the last photo that she is seen holding her hand to her belly.
"Oh yeah, she's pregnant," one user commented.
"Is it a baby bump?" another speculated.
But many don't think that's the case.
"I don't think she is," one person wrote. "She jumped ship after they got married in Italy…I don't think a pregnant woman would do that, especially if she's considered high risk."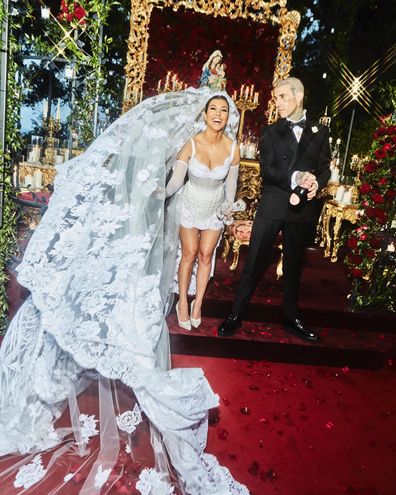 For a daily dose of 9Honey, Subscribe to our newsletter here
Kourtney has been open about her difficult journey with IVFwhich she says led to weight gain and "wasn't the most amazing experience".
The mum-of-three says she wants a baby with new husband Travis Barker, but at 43 she's having a bit more trouble conceiving.
Recently, an insider said People: "It's been an emotional roller coaster."
"They didn't expect it to be as hard as it has been. It's been especially hard for Kourtney. They would still like to have a baby. Travis isn't putting any pressure on Kourtney though. He just wants She is happy and healthy."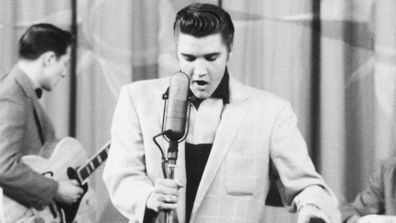 A look at Elvis Presley's most iconic moments