It looks like 2022 hasn't been very happy for Egyptian star Liverpool star Mohamed Salah, especially after losing the Champions League final to Real Madrid.
Real Madrid have won the Champions League for the 14th time in their history, having beaten Liverpool in the final 1-0.
Thus, it is the fourth time that Salah has lost a major title this year, knowing that he has won two titles, in the last meters, and knowing that he has won two titles with Liverpool, the Professional League Cup and the FA Cup.
In the following report, 'Al Ain Sports' reflects on Salah's most memorable sad moments, whether with Liverpool or the Egyptian national team in 2022.
Africa Cup of Nations Final
The beginning of February 6, 2022, when Salah lost with the Egyptian national team the title of the African Cup of Nations against Senegal.
Egypt lost to Senegal on penalties after the match ended in a goalless draw, but Salah failed to crown his first title with the 'Pharaohs'.
2022 World Cup qualifiers
On March 29, 2022, Egypt also failed to qualify for the 2022 World Cup at the hands of Senegal.
The defeat also came on penalties, after Senegal won the match 1-0, the same result as Egypt's victory in the first leg.
Interestingly, Salah missed the Pharaohs' first penalty in the game which contributed to the Egyptian side's failure to qualify.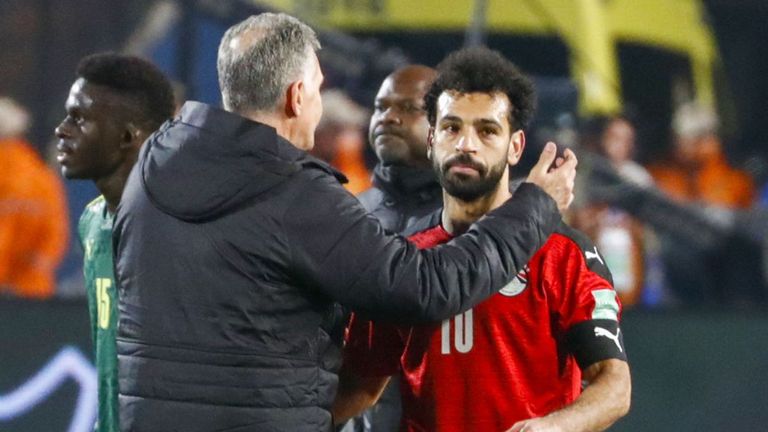 English Premier League.
Mohamed Salah also failed to win the Premier League title with Liverpool in the final meters of the competition.
Liverpool were close to the title last Sunday, having advanced against Wolverhampton in the last round with three goals to one, in which Salah scored one of the goals.
However, Manchester City reversed their deficit with a brace against Aston Villa, to prevail in 6 minutes 3-2, and crown the title.
Champions League
And the journey of pain continued for Salah, and this time he lost the Champions League final for the second time and against the same team, which is Real Madrid.
Since Liverpool and Real Madrid reached the final, Salah has made some exciting statements, outlining his desire to avenge the Royal team, after the latter beat Liverpool 3-1 in the 2018 European Champions final, which saw the injured Egyptian international outing.
But Salah's revenge attempt failed on Saturday night, especially as he faced a strange misfortune, as he had 6 chances to score, but Real Madrid goalkeeper Thibaut Courtois took it away. prevented from visiting his net.