Loading
Australia's Children's Commissioner Anne Hollonds welcomed the changes as "important" and "overdue".
However, Ms Hollonds stressed they needed to be accompanied by improved early interventions to tackle the underlying cause of a child's misbehaviour.
"We're quite hands-off until there's a crisis and then we come in, in a punitive way," she said.
Ms Hollonds was concerned that the education system was operating in an "isolated silo", disconnected from other crucial support services, such as psychologists, speech therapists and paediatricians.
She also argued the seeking of early help needed to be destigmatized for parents and teachers could benefit from extra training in the early identification of problems.
Parents of children who have experienced suspension enthusiastically supported the changes.
Nathalie Steinmetz said her son clocked up multiple suspensions throughout kindergarten, and she felt detailed advice from his psychologist had been largely ignored by his school.
"We just didn't feel like he was being supported sufficiently because we weren't having the same behavior at home," she said.
"As an education system, if we can't pay a little bit more attention and consideration to our most vulnerable students, kinders who are five years old, that's really sad."
Another parent, whose son was suspended in his first week of kindergarten, said he was now "thriving" after being transferred to a school that focused on understanding a child's misbehavior instead of punishing them.
"Students just really need better understanding and support – otherwise eventually, your child just gives up if they can't seem to do anything right," said the woman, who declined to be identified for professional reasons.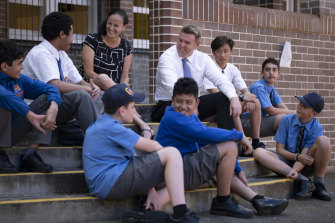 As part of the new policy, schools have been told to develop their own behavior management plan in consultation with the whole community, including parents and students.
It must require high standards, a climate of respect and reward good behavior.
Loading
Canterbury Boys' High Principal Ross Dummett created a new behavior policy at his south-west Sydney school last year.
"We brought in the kids, parents and staff, and had a full look at and review of our learning habits and classroom rules," he said.
"Everyone had a say, and because of that ownership, we think kids are making better decisions in the classroom."
When the discussion turned to suspension, the school's leaders would always ask themselves what they hoped to achieve with the suspension. Since the review of the policy, behavior has noticeably improved, Mr Dummett said.
However, the NSW Teachers Federation fears the policy will jeopardize safety and exacerbate workload concerns for teachers.
"It will place the health and safety of staff and students at greater risk," said deputy president Henry Rajendra, who warned union members were "furious" about the changes.
"Parents, like teachers, should be very worried."
The Morning Edition newsletter is our guide to the day's most important and interesting stories, analysis and insights. Sign up here.