"The Mandalorian" and "Ahsoka" are sure to thrill Star Wars fans soon. On May 28 at Star Wars Celebration in Anaheim, Calif., series creators Jon Favreau and Dave Filoni spoke about their hit Disney+ Star Wars series, "The Mandalorian": where it's been and its future, as well as some major details about the new "Ahsoka" Show. POPSUGAR was on hand for the chat, which included a host of surprise guests, including Pedro Pascal, who plays the Mandalorian title, Din Djarin, and Rosario Dawson, who will star in the first season of "Ahsoka" in 2023.
Favreau said of leading the new world of Star Wars television on Disney+, "For me, it's been a dream come true." He said his interest was in telling "personal stories" suitable for the small screen, which could then bring in people who don't necessarily know all of Star Wars already, but are interested in the world.
"When I first saw Star Wars, it was a sequel to a serialized story," Favreau said, returning to George Lucas' original idea for the series. For Favreau, making Star Wars television, full of set pieces, creatures, and major cliffhangers, is exactly in the spirit of Lucas' vision.
"That's the closest I've come to being a dad – so far, anyway. You watch the show, and see a kid love a dad like that, you know."
The couple also opened up about the stress of keeping Baby Yoda – aka Grogu – a secret in the first season; fans had no idea this character existed until the first episode of the series aired. "I'm just glad it's in the first episode," Filoni said with a laugh. The hardest secret to keep, both men agreed, was the appearance of Luke Skywalker in the season two finale.
When Pascal entered, the crowd erupted. "My heart exploded in my body," Pascal laughed as he sat down. "It's a good last day of my life."
Pascal reflected on what it was like for Din and Grogu to be apart in season two and most of "The Book of Boba Fett." "It's very difficult to be apart," he explained. "That's the closest I've come to being a dad – so far, anyway. You watch the show, and see a kid love a dad like that, you know."
Pascal introduced Brendan Wayne and Lateef Crowder, who are Din's stuntmen. Because Din is still wearing a mask, it's usually not Pascal in the costume, so bringing the character to life is a collaboration between the three men. "The way we work is so inclusive and so fun," Wayne said. "I mean, we play cowboys in space."
"They are some of the most talented people I've ever worked with," Crowder said.
Then Giancarlo Esposito, Carl Weathers and Emily Swallow joined the panel. Esposito, who plays Moff Gideon, joked about his character's desire to "crush" Grogu, despite personally liking the little guy. "I want the child in me to come back through Grogu's child," Esposito said. He explained that he came up with his own backstory for Gideon – even if it's not the real canonical history. He receives "hints" from Favreau and Filoni, looks at the script, and lets his imagination run free to fill out the character.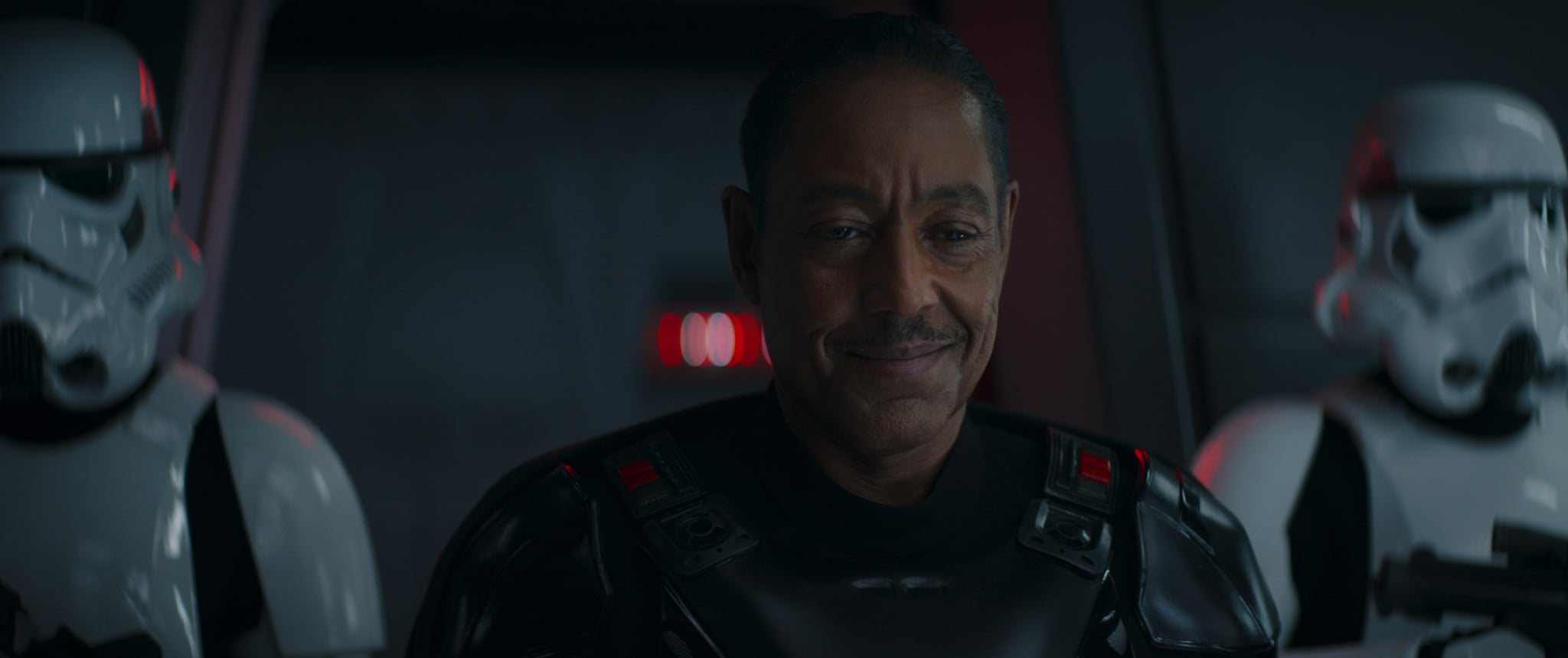 Swallow, who plays the very mysterious The Armorer, said she "enjoys" inhabiting her character's space because she's smart, patient and grounded. "She really reminds us of those heart and soul themes, and I appreciate that about her," she explained.
Weathers joined the cast as Greef Karga in season one and also directed an episode in season two. Weathers seemed to confirm that he would be directing another episode of the new season, and he gave ample credit to the people behind the scenes for creating the "magical world we can walk through."
Then Temuera Morrison, who plays Boba Fett, joined the group for another standing ovation from the fans. Morrison revealed that while filming "The Book of Boba Fett," he would watch "The Godfather" and try to channel a bit of Marlon Brando's Vito Corleone. It looks like Ming-Na Wen's Boba Fett and Fennec Shand will be back for the third season of "The Mandalorian."
Next, Katee Sackhoff, who plays Bo-Katan Kryze, and Rick Famuyiwa joined the panel to learn more about where "The Mandalorian" is going in season three. Famuyiwa directed several episodes of the first two seasons and is an executive producer of the third.
"It was an honor," Famuyiwa said when asked to work on the show. When asked if he could reveal anything about the season three goal, he simply replied, "No." Sackhoff was also tight-lipped about Bo-Katan's role in season three.
Sackhoff originally voiced Bo-Katan in the "Clone Wars" animated series. She said: "To be able to start with her 10 years ago, and that [Favreau and Filoni] trusted me to take her to live action, I still pinch myself."
Favreau and Filoni have released an expanded teaser for the new season of "The Mandalorian," longer than the one that premiered at the Lucasfilm panel on May 26. One of the characters that seems to return in the new footage is Babu Frik, an adorable and funny little alien who appeared in "The Rise of Skywalker." Also in the new footage were shots of a fallen Star Destroyer, new characters, and our first look at the Mandalorian home planet, Mandalore.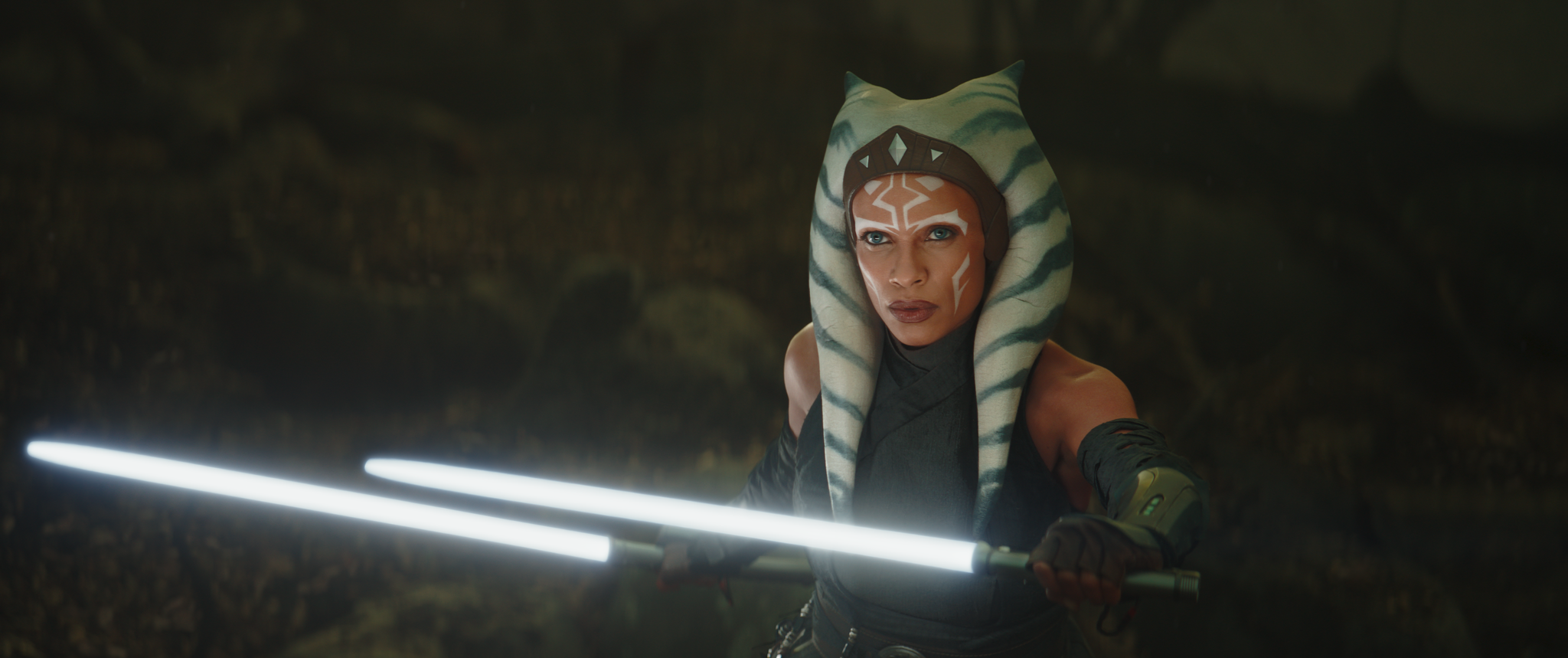 Then, "Ahsoka" star Dawson made a surprise appearance straight from the set of the show, which is currently filming. "It's a pleasure and an honor to bring this character to life and to feel the energy of anyone who wants to see her," she said. Dawson also released Chopper, the droid from "Star Wars: Rebels", which spun on stage.
Filoni released a short "Ahsoka" teaser. The footage included appearances by "Rebels" characters, including Hera Syndulla, Ezra Bridger, and Sabine Wren. Then Natasha Liu Bordizzo, who will play Sabine, joined the panel.
Filoni, who worked extensively on "Clone Wars" and "Rebels," reflected on the experience of bringing these characters to live-action. "You write these stories and all of a sudden you look through a character and see the environment and they're there," he said.
"I feel like I've just been adopted into a new family," Bordizzo said of joining "Ahsoka." She said fans will be "really excited" about the trip Sabine will have.
In the end, Favreau brought out the real star – Baby Yoda himself. He greeted the fans and sat down on the table.
The third season of "The Mandalorian" is slated to premiere in February 2023. The first season of "Ahsoka" is also slated to premiere on Disney+ next year.