It's part of a two-part special written by friends Anthony Albanese and Scott Morrison. You can read Karen Harrington's article on Morrison here.
It was early 1982 when the 470 bus for Sydney University pulled up outside the old Camperdown Children's Hospital. A skinny young guy in a denim jacket came on board who I vaguely recognized from campus. We started talking and he simply introduced himself as "Albo".
We had a lot in common. We were both inner city working class teenagers. My father worked at the children's hospital as a caretaker and Albo's mother, Maryanne, was a disabled pensioner whose council house was opposite the hospital.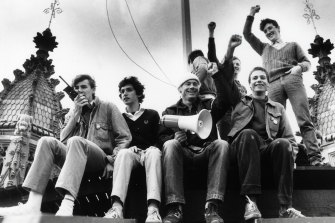 We bonded through our politics and similar musical tastes, following up-and-coming bands like Hunters and Collectors and the Oils. A few months later? After a memorable concert at Selina in Coogee Bay, we slept on the beach after missing the last bus back to town. We also shared a certain affinity that comes with attending a prestigious sandstone university under circumstances where we were the first in our respective families to even finish high school. Uni life presented us with a weird and wonderful range of characters and ideas.
Albo was good at forming friendships that often turned into alliances. There has always been a quality in him that people trust and people are willing to invest in. Many of the friends Albo met in his early days have remained close to him today.
Albo has become a frequent visitor to my vast shared house. It was a dilapidated gentlemen's residence in Enmore, owned by an absentee owner in Melbourne. There was a pool table in the living room which was the center of a vibrant social scene where many of the world's problems were sorted out, at least in theory.
In the years that followed, I was welcomed into Albo's family by his mother, Maryanne. To understand Anthony Albanese, you need to know a bit more about Maryanne, who remains such a powerful influence in her son's life. The relationship between Anthony and Maryanne was as close a parent and child relationship as I have seen. They were all the other had, and Anthony's devotion to his mother was deepened because of her disability. Both of his hands had been crippled by severe arthritis since his early thirties, making even simple tasks, like opening a tin can, nearly impossible.
Maryanne went back and forth to the hospital for surgery. Most of the knuckles of both his hands have been replaced with prostheses. She was obviously in tremendous pain and yet, in all the years I knew her, she never complained. Maryanne was always warm and welcoming. She was the kind of person who saw only the best in others.