For a moment it sounded like pure poetry: a return was planned at the cattery and all was well with the world. At least until Geelong have scored seven of the next eight goals.
So here we are; another week with some promising signs, some more ominous, that familiar fleeting sense of hope duly buried under a flurry of last-quarter goals.
Following a team through a concerted reconstruction is, without a doubt, a cavalcade of emotions.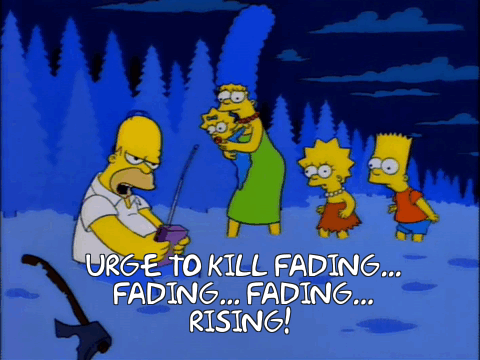 And after five weeks now of mundane performances against, for the most part, solid opposition, one is aware that there are only so many times one can reflect on the same predicament without sounding like the proverbial scratched record.
It would, of course, have been nice – and important – to beat just one of those finals teams we've faced in the past four weeks…not to mention the non-finals team we've played against (well, in sort of) five weeks ago to reignite the current malaise.
But although we showed signs in each of the last matches, in the end we couldn't do it.
But still – 42 points against the Cats at home seems about right given the position of the respective teams.
And, of course, it could have been worse.
77 points down, as Port Adelaide can attest.
But given the recent – ​​and counterintuitive – sense of misguided optimism we're peddling here at Fumbleland, it's time to call for caution.
And to avoid repeating a well-worn script, we felt the best way to do that is to use rhyme.
So here is a poem by Fumbles, titled:
Don't waste this weekend
If Adelaide aspires to be
A consistency model
We should be happy
Once again we had
No radar for the goal posts.
So on our failures we can bet
But that aside, got no regrets
For most fans, count
triumph beckons
Unless we lose to the west coast
We never really seemed to be
Lots of slaughter at the cattery
No reason to applaud
At 19 years old
Our record is appalling
But we can at least take heart
We rallied from a pointless start –
Until we've stopped,
At least consoled
This danger did not play
The dream now, when it seems hopeless
Is to revive our first form
At 3 and 3
On track were we
Our detractors to confuse.
But without victory in May,
Now 3 and 8, we pissed off
Our departure, but gropingly
For a last hope:
Unless we lose the next round
At first the supporters seemed quite cold
About the impending reconstruction of Crows
But one formline remains
And play Crouch
Made the fanbase crazier.
Still, a winning streak looks imminent –
Potentially, except next week
We can't win
The team we meet
It's 18th on the scale
Our horror run is coming to an end
On victory we should depend;
On the form alone
We should go home,
It's not rocket science.
But as all Crows fans know
That's when we're most likely to leave
weak-hearted,
and collapses:
Like when we play the Giants
At least the past two years have brought
Some classic victories, which should
be a sign
that over time
The seed will come to flower.
We would say, if we were optimistic,
We beat the two grand finalists,
The cats last year,
And how we clapped
When Dawson Killed Power
Whose return after a winless start
Was a dagger in the heart;
They are now 5-6,
And in the mix
For an unlikely place in the final.
And, though their line of form is still quite choppy,
The perspective itself is pretty shitty.
But even darker
If we don't win
Against the Perth team
Port Adelaide threatened with repairs
The remnants of a disastrous weekend;
A tide of bombers
Almost provided
Maximum pleasure.
While the misfortunes of Sam Powell-Pepper
Recalled the useless crows,
And Port looks tame,
They can still claim
They didn't lose to the west coast
So while our early season form
Decreased, don't be desperate;
We can still give
a positive
Or two, like O'Brien
And Soligo staked a claim
In just four games and a third
While it looks like Fog's
A useful cog
If he doesn't join the Lions
Our next three games are winnable,
And failure won't be spinnable
In two out of three;
we have to see
Results of our efforts.
While the Gold Coast charges
We really shouldn't lose to North:
an albatross,
would be this loss –
We would wear it forever.
But one week at a time, for now.
We dust ourselves off, we plow:
And pray our purchase
By D. Burgess
Will help us find a response
For those who say we are treading water.
It doesn't have to be a massacre,
But just make sure
We get Win Four –
And please don't lose to the West Coast!
Touch of the Fumbles is InDaily's shameless weekly football column, published on Mondays during the AFL season.
Local news matters
Media diversity is under threat in Australia – nowhere more than in South Australia. The state needs more than one voice to guide it, and you can help with a donation of any size to InDaily. Your contribution goes directly to helping our journalists uncover the facts. Please click below to help InDaily continue to uncover the facts.
Donate today
Powered by
Press Patron