Both mother and daughter remain in a critical condition in hospital suffering smoke inhalation. Investigators yet to establish a cause of the fire.
The father, police said, remained in a stable condition in hospital.
On Friday, worried neighbors gathered in the street, keen to learn what occurred just meters from their homes, while the blackened rear end of the damaged house was visible from their street.
Tommy Sawce was walking home from Lygon Street when he says he saw smoke billowing out of the burning home about 300 meters away.
Rushing to neighboring homes, he said he banged on doors and rang doorbells to wake up others.
He said elderly residents whose homes backed onto the burning property were reluctant to leave, but he helped them from inside as nearby flames intensified.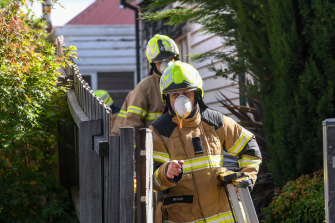 "When I went into the house to help the elderly people you could see through their sliding door the glow of the fire," Mr Sawce said. "It looked pretty hectic, it was pretty full-on."
Lewis Spiteri was in bed when he said he woke to muffled screaming, then sirens.
Still in his pyjamas, he rushed outside to find emergency services and other neighbors on foot filling his street.
"I just heard a bit of screaming. That's why I got concerned and had a look outside," Mr Spiteri said.
"[It's] not uncommon to have a few ambulances in the street, there are a few elderly people. [This is] very sad."
Father-of-two Troy, who lives beside the burned home, said when he woke to find flames billowing from the neighboring property, he got his family out and grabbed a hose.
Not realizing how intense the fire was, he said he began spraying water onto the roof. He now believes this saved his home.
Loading
Fire Rescue Victoria said about 30 firefighters spent 45 minutes controlling the blaze, which caused minor damage to two neighboring properties.
Detectives, along with fire investigators and an arson chemist, remained at the scene throughout Friday morning, trying to establish just what caused the fire.
Police urged anyone who witnessed the fire to contact Crime Stoppers on 1800 333 000, or via their website.
The Morning Edition newsletter is our guide to the day's most important and interesting stories, analysis and insights. Sign up here.