Donald Trump criticized Joe Biden's economy during an appearance on Monday, accusing the president of leading the United States into "a recession".
The former president addressed the stock market, gas prices and oil policies in a 15-minute phone segment aired on Newsmax's Eric Bolling Balancewhere he said Biden and the Democrats had "destroyed" the economy.
"We had the greatest economy in the history of the world…especially just before COVID, or the Chinese virus came in, we had the greatest ever," Trump told Bolling. "I actually had the stock market higher than it was even before COVID. And then they destroyed it."
Trump said the economy "has been slow for a year and a half" but now has "a lot of problems".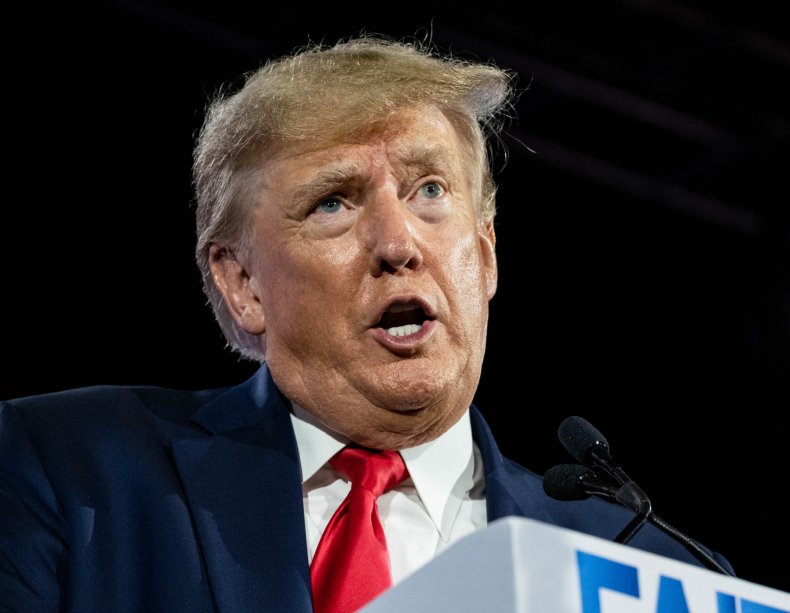 "Our country has never been like this," he said. "And we are in grave danger with what is happening in Ukraine and with Russia. You can end up with a world war the way they are handling it. Crazy. What they are doing is crazy."
Trump took issue with Biden's recent statement to The Associated Press that the recession is "not inevitable," saying it has happened before.
"I think we're in a recession," Trump told Bolling. "It's not something that's going to happen in two years… We're in a recession, and you're pushing people into a recession. And people aren't working and it's not the right time."
According to the IBD/TIPP Economic Optimism Index, released on Friday, 53% of Americans agree that the United States is already in a recession.
Trump said the economic woes started with energy and he blamed rising gas prices on "going green".
On Monday, an optimistic Biden told reporters in Rehoboth Beach, Delaware, that the state of the economy could trigger a "fundamental shift" toward green energy.
"We have a chance here to make a fundamental shift to renewables, electric vehicles, and not just electric vehicles, but all areas," Biden said.
Trump criticized Biden's policy on oil drilling and called on the US to use its own "liquid gold".
"We have liquid gold under our feet. And we were taking it like never before and now we're begging other countries to give it to us," he told Bolling. "But they turn green and the green isn't strong enough to light our plants. Not even close."
Trump predicted that gasoline prices will rise even more.
"I think it's going to be a lot higher than that eventually, but it's not sustainable," he said.