Rising promises the best of both festivals without any baggage – the lineup looks cool without being elitist, and the format aims for popularity without complacency.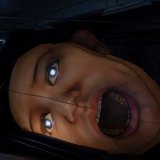 It's a newer model that's not content to dabble in the latest handful of shows that have done well elsewhere, but rather seeks to sink deep into the culture that's already thriving in Melbourne. There should be a lot of the unexpected, but it's more about context and collaboration than ticking the boxes on your culture bingo card.
So where do you want to start?
I liked White Night!
You and about 700,000 others, my friend. If you feel like wandering the city, catching something weird and wonderful around every corner, head to Golden Square, a festival district that spans a multi-level car park of Chinatown. Oversized facilities, unexpected performances and – yes – plenty of planned work awaits, with a rooftop bar to kick off your wanderlust.
If you have kids in the frame, your destination should be The Wilds. The Sidney Myer Music Bowl has been given a makeover by a group of artists from around the world. They've populated the generous space with giant organisms and mutating flora, while evolving soundscapes mark your meanderings. In fact, all the senses should enjoy the affair: the air will be scented with serious food offerings from Shannon Martinez, David Moyle, Jo Barrett and Matt Stone, among others.
I love getting lost in festivals.
Head to Kaleidoscope, a stunning new installation by one of the creators of old Melbourne festival favorites House of Mirrors and 1000 Doors. A labyrinth of mirrors and changing colors, it should satisfy all desires to get lost in the time of a spell.
This all sounds good, but I think I forgot how to do a festival. Can I start with something calmer?
Easy. Opera Invisible is a public event experienced privately: slip on a pair of headphones and watch the parade of ordinary people through Fed Square transform into a world of private drama and fleeting exchange. A disembodied voice will narrate the events and make you wonder what is real and what is accidental, how many of these lives are choreographed and how much the result of chance.
Pleasant. I think I'm ready for something deadlier.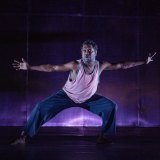 You can't pass Jurrungu Ngan-ga (speak frankly) by First Peoples and the intercultural dance company Marrugeku. It's a huge work of dance and physical theater that tackles a difficult subject – the overrepresentation of Indigenous Australians in detention and the sad history of refugee detention – and weaves together a haunting spectacle of visceral endurance and resilience. It's the kind of live experience we've been denied for a few years, and it's a world away from your couches and screens.
Give me something else.
Rianto is an internationally acclaimed dancer from the Indonesian island of Sulawesi and a specialist in the Lengger tradition that plays with gender expression. He toured with Akram Khan and inspired Garin Nugroho's film memories of my body; Nugroho also helped bring Rianto into Rising, Hijrahwhich uses Lengger to explore a long history of gender fluidity that predates more recent traditions in Indonesian religion, politics, and culture.
All this dating talk makes me feel old.
Think about it! Everything and anything is directed and performed by young people aged 11 to 21 and is full of fascinations, fears and indecipherable memes that fill their lives. It's a show that should connect with the performers' peers while offering insight into the real world of today's teens, far beyond the narrow definitions that their elders impose on them.
Give me a good thread.
Let Elaine Crombie do the honors. His personal exhibition, Janet's Wandering Love, uses storytelling and song to explore love, loss, family and community. Reports of its Adelaide seasons have been brilliant, speaking of work that doesn't shy away from the trauma and destruction inflicted on generations of Indigenous Australians, while integrating comedy and moments of pure joy into the picture. If you're looking for a job that will rip out heartstrings, this one sounds like a must.
Loading
I want something weird.
You could start with Working on my nocturnal movements. This unclassifiable performance is the type that has polarized critics, who can't even agree on what they saw. It's an experiment in feminist futurism that all critics admit is unlike anything you've seen before. Chaotic yet peaceful, both ridiculous and haunting, it's an elaborate intergalactic puzzle with a sci-fi bent. Some found it frustrating and obtuse; others have fallen in love with a show that respects its audience enough to give them space to think.
Anything that gets me out of the home office, thank you.
Step into an absurd wonderland that might be too close to the bone in 8/8/8: Work, the first in a series of shows exploring our eight hours a day of work, rest and play. typical work, populated by poorly paid interns, ecstatic technicians and marketing types with dubious motivations. Surreal and satirical, this is a book for adventurers.
I'm sure I've seen it all.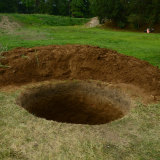 Then roll up your sleeves and get to work on the hole. It is exactly what it sounds like. With the help of anyone willing to pick up a shovel, a collective of artists will spend the time it takes to dig a really big hole, and when it's all done, they'll fill it in again. As pointless as it is laborious, the Hole is an activity that only becomes an experience through real action – a void ready to be filled with your own meaning.
RISING PLACES
The music programs of many international art festivals can seem a little stuck: while elsewhere artists push boundaries and test their creative limits, here you'll often find a bunch of bands playing their standard set lists, noodles math rock for the most cerebral. , and a seminal icon whose best production dates back to the 70s.
That's not the case at Rising: this year's festival music promises more than the usual lineup. Here are a few worth listening to.
Sampa the Great: The ex-Melbourne rapper should no longer be presented, but here promises a whole new experience in the form of the concert event A future afro. She will be joined by continent-to-continent singer Kye and her sister Mwanje.
Ana Roxane: this Filipino-American composer captured the minds of many with her 2020 ambient album Because of a flower, which falls somewhere between ASMR, guided meditation and electronic ghost story. Carry stuff.
Tkay MaizdaFrom slippery neo-soul to hard-hitting hip-hop pop, Zimbabwe-born Maizda was catapulted onto the world stage in just a few years, opening for Billie Eilish on her US tour. The Forum show should leave fans on cloud nine.
Loading
Midori Takada: pioneer of the ambient, the Japanese Midori Takada is influenced at the same time by the Eastern and Western percussions as well as by the complex traditions of Ghana, Ivory Coast and Indonesia. His 1983 album on the other side of the mirror is considered a groundbreaking entry into the genre, and this live performance should prove ideal for anyone looking for a deep space for contemplation.
Rising runs from June 1 to 12, rising.melbourne.
A cultural guide to go out and love your city. Sign up for our Culture Fix newsletter here.